MARVEL STUDIOS' LOKI SEASON 2
CANVVS and Marvel Studios have collaborated to create 3 bespoke designs in celebration of Loki Season 2. Together, they have forged a unique trio of exclusive designs for the sensational arrival of Marvel Studios' Loki Season 2, now streaming on Disney+. These shoes promise an unparalleled and thrilling adventure for fans and fashion enthusiasts alike.
Loki Season 2 picks up in the aftermath of the shocking season finale when Loki finds himself in a battle to figure out the Time Variance Authority. Along with Mobius, Hunter B-15 and a team of new and returning characters, Loki navigates an ever-expanding and increasingly dangerous journey in search of Sylvie, Judge Renslayer, Miss Minutes and the truth of what it means to possess free will and glorious purpose.

THE CREATORS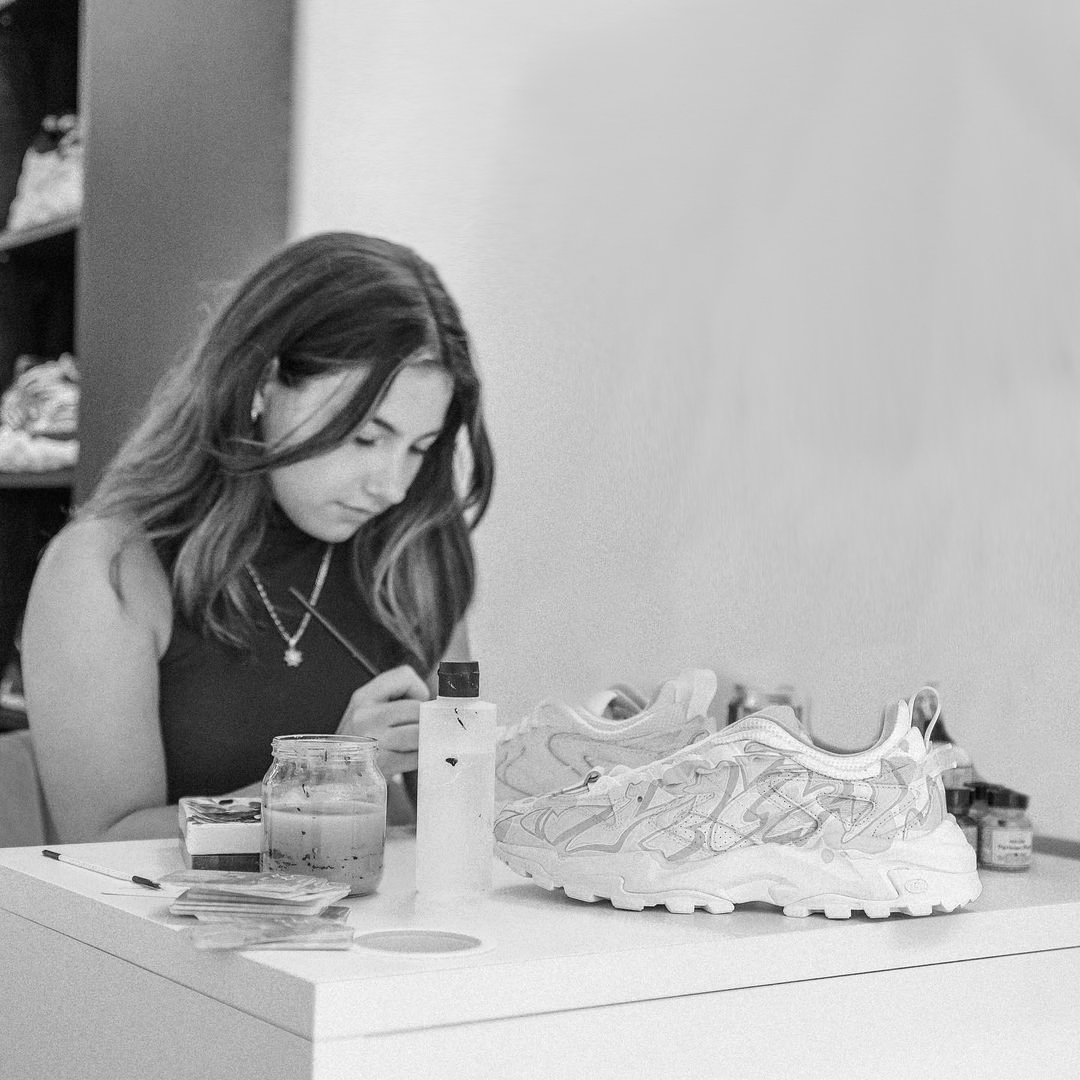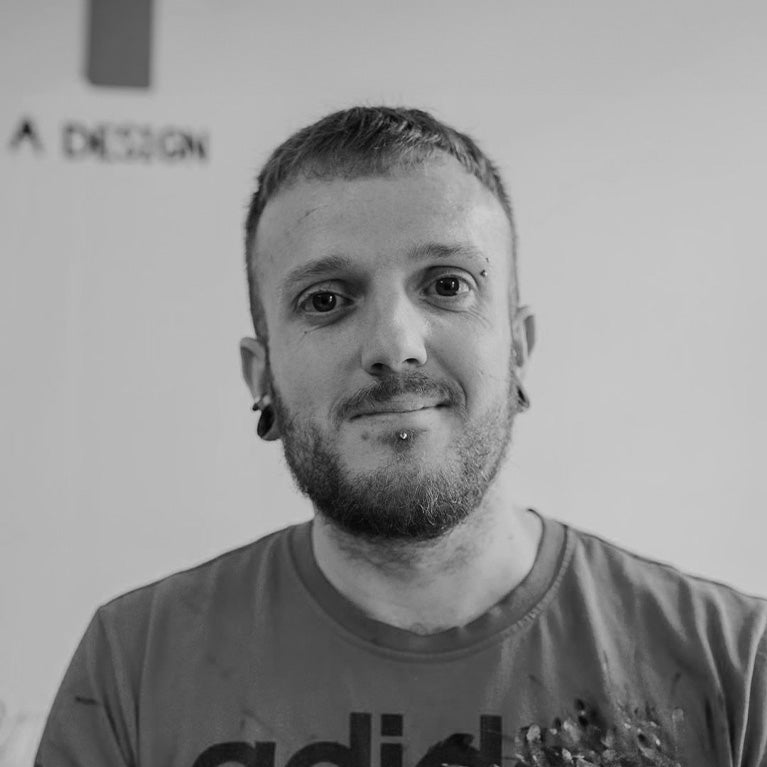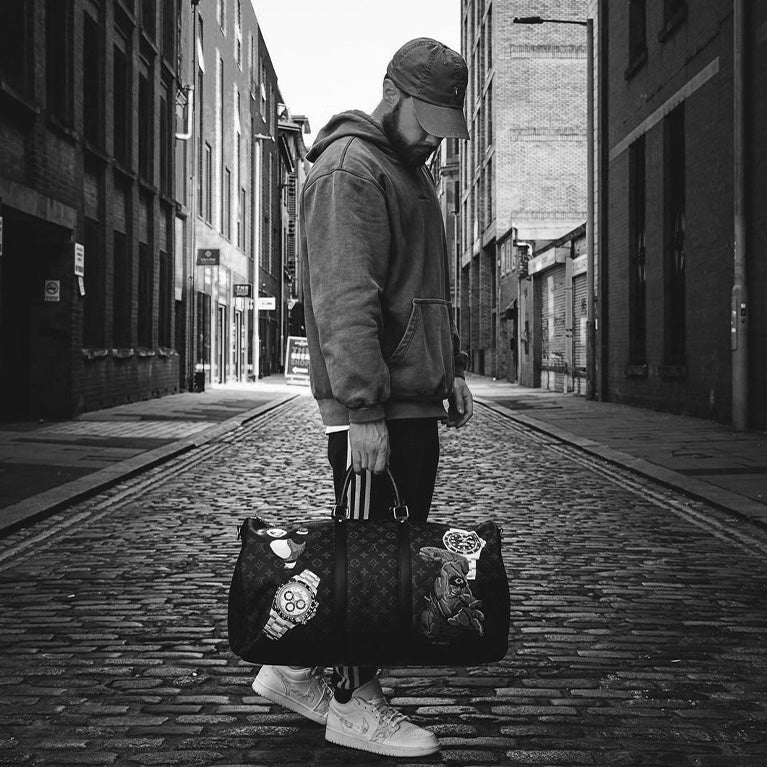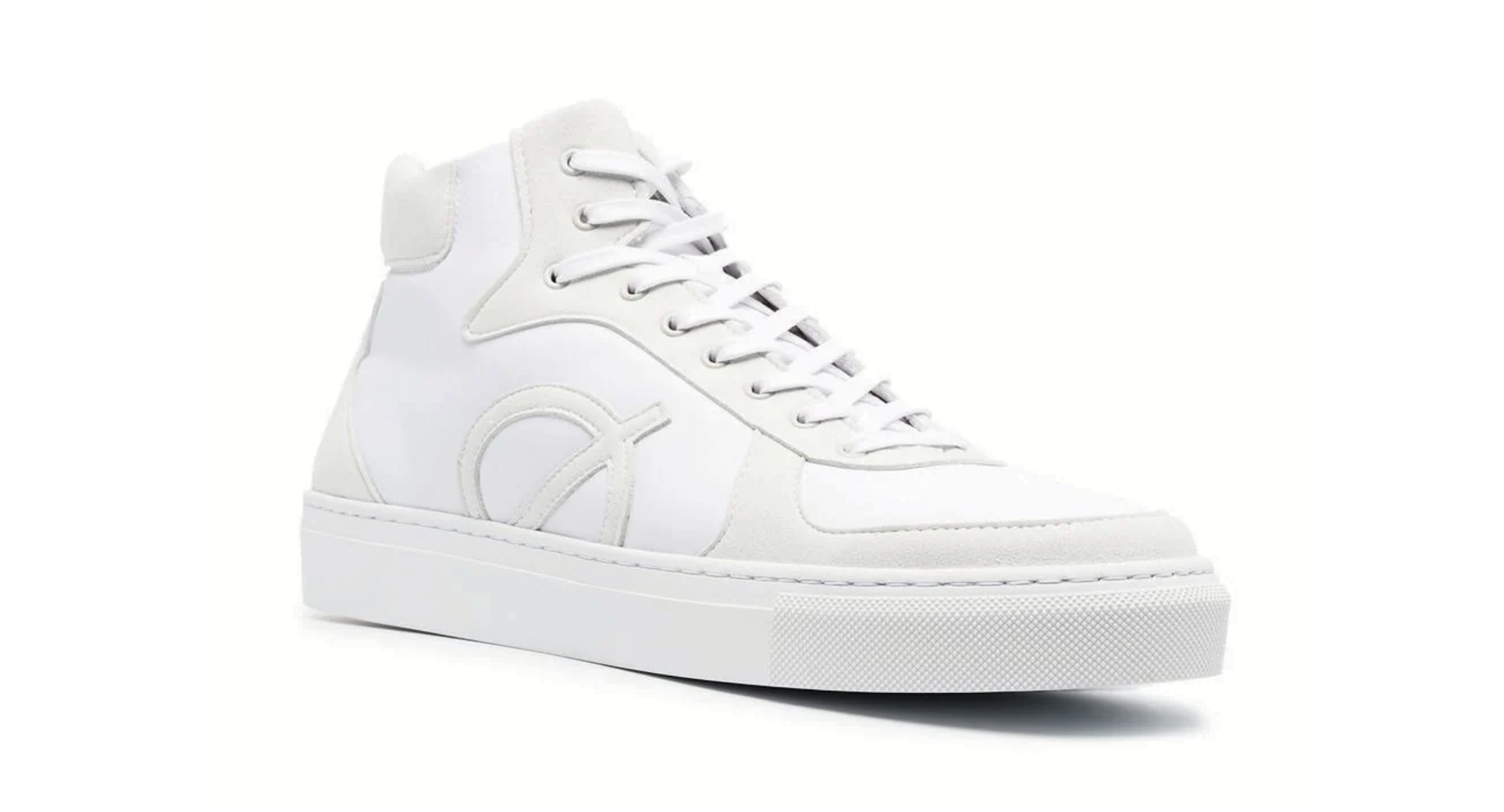 THE SILHOUETTE
CANVVS choose LØCI as the most fitting silhouette to celebrate the release of Marvel Studios' Loki Season 2. This fashion powerhouse that strikes the perfect balance between style and purpose. The classic high top is crafted from conscious materials with a unique blend of recycled ocean plastic textiles to create a premium range of vegan trainers. In just over a year, the brand has gained global traction with physical stores across Europe & USA, as well as being featured in every leading publication from Forbes to Vogue and InStyle.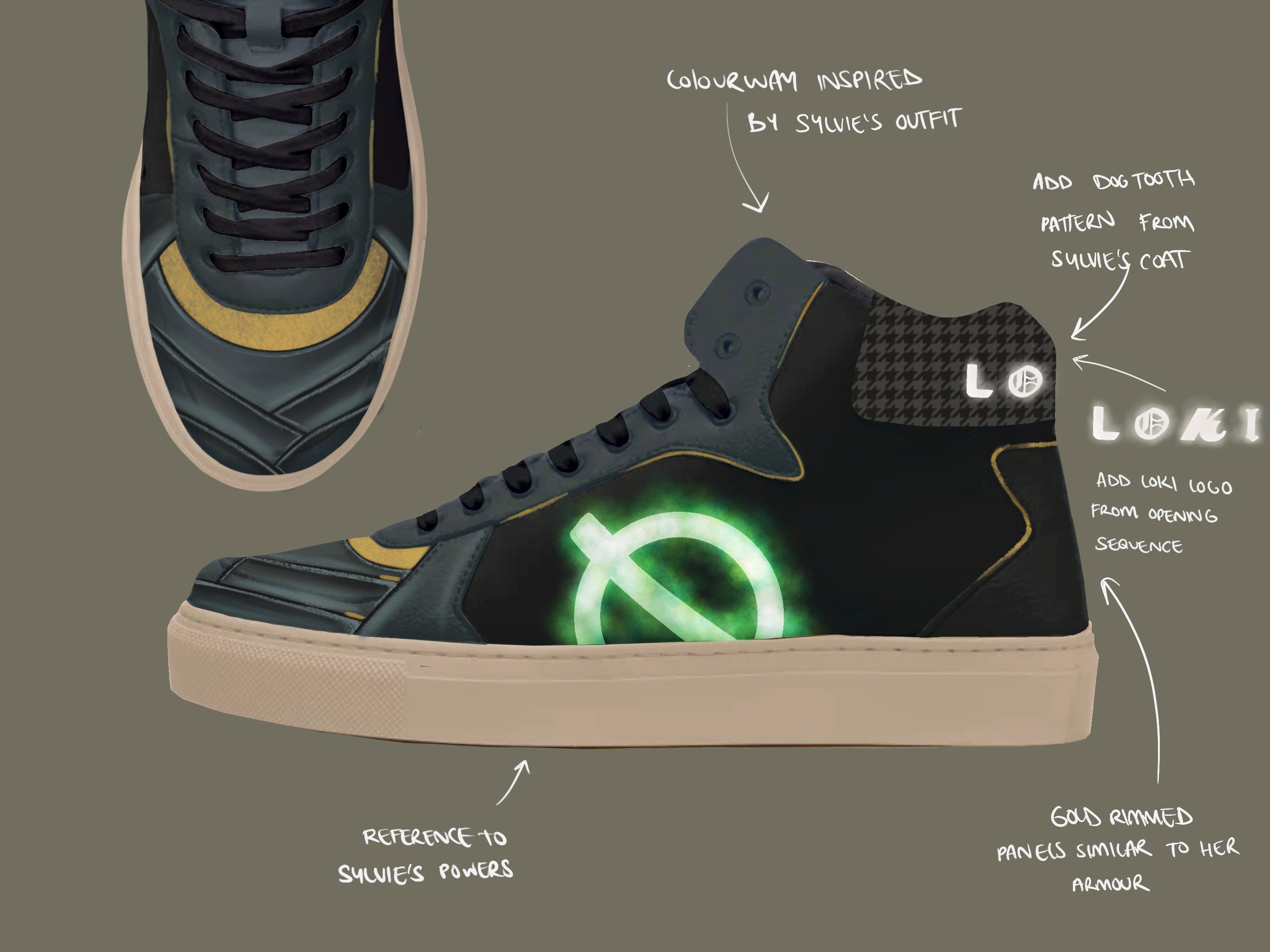 THE DESIGN
Shoes by Stella wanted to have both pairs inspired by the characters outfits; for the sneaker inspired by the Loki character she wanted to capture the essence of colour waves
from his signature shirt, trousers, and tie and highlight his new iconic wardrobe. She dedicated the whole lace lock to this, bringing this shoe to life and also recreating the time slipping Loki experiences in Loki Season 2.
The right shoe was dedicated to the character Sylvie with her gold accents and the Loki Season 2 logo. The characters' powers are stronger together than when they are apart, so by turning both LØCI Sneakers logos into a green cloud of energy really brought the two pieces together. The logo on these shoes also emits a radiant glow that pays homage to Loki's exceptional powers—an electrifying tribute that resonates with fans around the
world.
ARTISTIC FREEDOM
Starline Customs customised a White Legend Series LØCI sneaker to recreate the magic displayed in Loki Season 2. The sneakers portray a warm but old aesthetic, contrasted by luminescent greens with pockets of complementary purple, in a vast blackness of space highlighted by the iconic timeline and its branches in a bright white, with gold upper heel tabs on both the backs.

The right shoe includes the same overall backdrop however he added to the space and timeline details a 'worn sepia' toned historical background representing the passage of time near the heel. In highlighting Miss Minutes clasping an hourglass he displayed her control of time which he painted immensely well. He finally hand painted a portrait of Mobius in his space suit.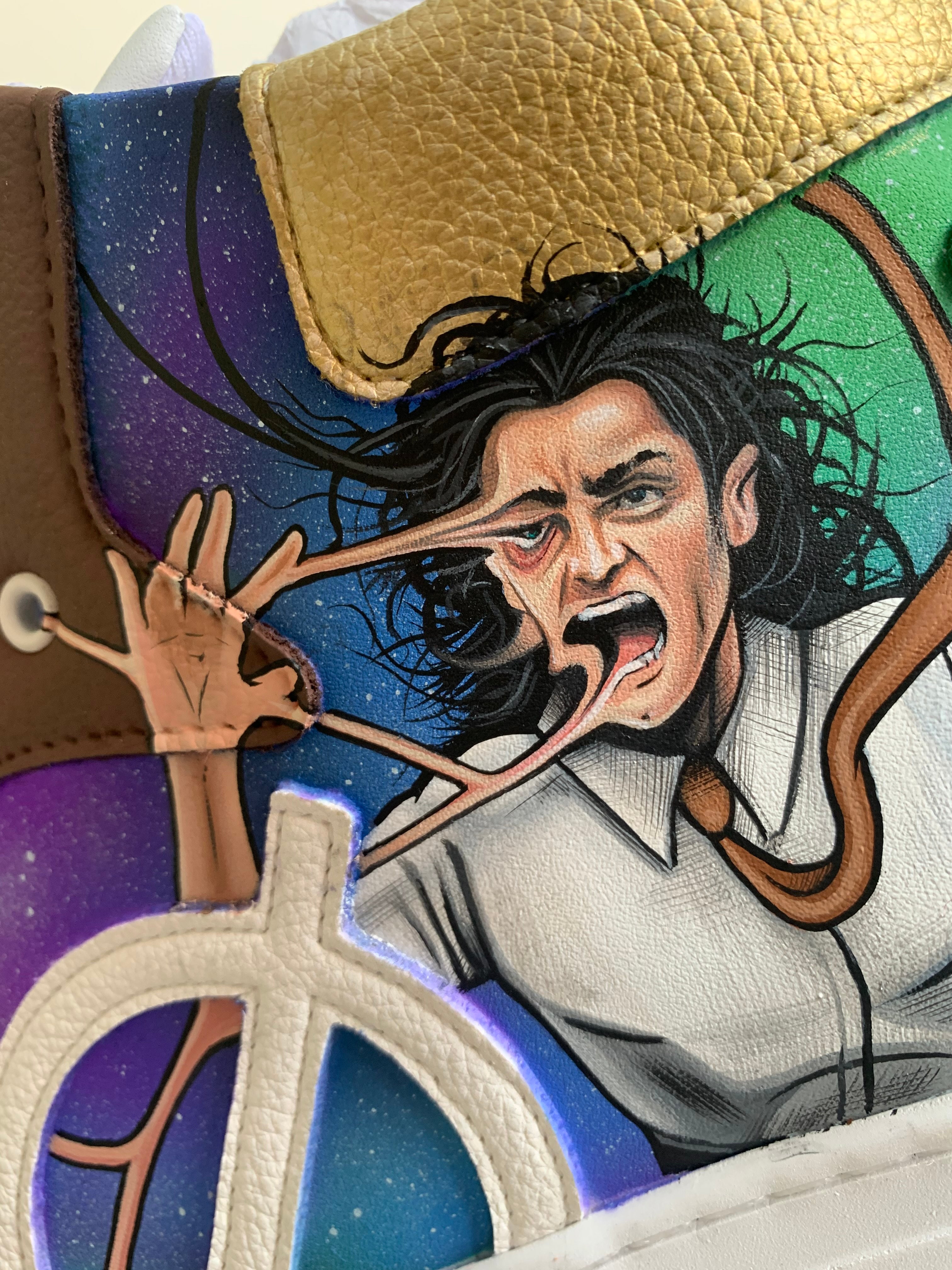 THE DETAILS
For the left shoe, Starline Customs included a contorted portrait of Loki time slipping. With his fleeting skin stretching out towards the eyelets, wrapping around the shoe, going over and under panels, giving the broader silhouette of the shoe a bit more depth and design continuity. Karl's attention to detail was really highlighted here as he managed to bring each inch of the character to life.
While the inspiration from these sneakers were drawn exclusively from the show it's clear Karl's designs speak for themselves.
This mesmerising mosaic of all-seeing eyes that symbolise the very essence of Loki's omnipotent nature. The incorporation of horns and an hourglass adds a layer of mystique that elevates this design to a another dimension.
Karl did an amazing job to truly bring these characters to life and the magic they represent in Loki Season 2.
WEARABILITY
Scottie Wilks Art incorporated the earth tones from Loki's 'VARIANT' Jacket and the green and gold tones form his armour. Scott wanted to create a design that wouldn't look out of place being worn by a member of the TVA. His minimal and sleek style offers the shoe a professional feel which any fan would be proud to show off. He also included a little easter egg on the tounge tab, that plays a crucial role in Loki Season 2.

The muted tones which have been used throughout the shoes give it an understated look that is still eye-catching and interesting. It's a subtle but sophisticated take on Loki's costume that fits in effortlessly with a variety of styles.
THE FINISHED PRODUCTS
In celebration of Marvel Studios' Loki Season 2, now streaming on Disney+, CANVVS had three of their artists design a custom sneaker inspired by the new series. All three artists were given LØCI silhouettes which were kindly gifted by the rapidly growing vegan sneaker brand. All the arts interpreted the project differently meaning 3 very different and beautiful sneakers were able to be gifted. Pulling on the themes of time travel, mischief and the TVA universe the 3 pairs highlight the magic of the series and the iconic characters and adventures that unwind throughout.